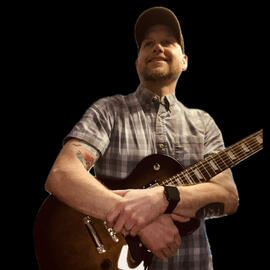 As The Plot Thickens
---
Recently released: "Unseen" 9/14/23. Coming soon: "I Bury The Living" 10/15/23.
The Story begins...
As The Plot Thickens
What is As The Plot Thickens or rather who? Well I am Mike. I am a musician and songwriter. Music is a huge part of my daily life in one way or another. This is all about my project As The Plot Thickens. I have played in rock and metal bands since 1995 when I helped form a local alternative-rock band in my hometown. I played drums and sang in that band as well as the next band when the other one was on pause for the next 20 years (we are currently playing together again briefly and will never officially split up because we are all great friends and consider each other family). I played guitar and sang in another band years later.Honestly I had no interest in playing music other than listening to it- which is a daily thing- but playing in bands was no longer what I was wanting to do and it can be so exhausting. Music is involved in every aspect of my life to this day like I said and I'll always have my own set up at home to do my thing. It's my outlet and my therapy.In 2016 I decided to begin writing and recording music after not having done so in quite a few years due to family and schedule. I wrote several tracks and recorded on a Tascam DP-08 Porta-Studio. It is an 8 track digital portable studio. It records tracks to a flashcard. I really didn't know the system so I was a bit overwhelmed. After a few weeks of using it I was becoming more confident and competent. It was a lot of fun to record with. I began to upload my creations into my laptop and used the program Audacity to mix and master the tracks into completed songs. I had used the program in the past and it was easy to relearn how to use it.I had mastered the tracks and named them but my project was nameless at the time. I decided on As The Plot Thickens. It was a work in progress with no real end goal. I had no plans for the music I had created. I felt my writing skills were decent. I also felt my recordings were sounding progressively more professional for what they were and for what I was doing. I let friends and family hear my creations of layered guitars, bass guitar and drums. I did not record vocals at the time. More on that…I have an Alesis DM8 (electric drum kit), a Dean Vendetta electric guitar and an Ibanez Soundgear. I also have several acoustic guitars but rarely record with them although they do sound great. I was learning the difference between electronic drums versus a standard real drum kit. I have to admit after I swapped out the mylar heads for mesh I was greatly impressed. I mean the feel was more authentic and the sound was dampened. It was incredible and I still think so to this day. I am a drummer by trade. I began drumming at the age of three according to my parents.I picked up the guitar at fifteen and learned every Metallica intro I could and it really taught me attention to detail. I continued through the years to hone the skill and ability to play guitar. I was confident in my ability. I picked up the bass easily but since it is a one finger deal I felt it was basic for me.In 2017 I had changed careers and unfortunately put my song writing on a shelf. I occasionally played the guitar but would get bored. My new career kept me busy and my mind off of music creation. I started writing and recording again in September 2019 and I created some songs I was really proud of. I started to put vocals to them. I had no plan for my music other than to create and enjoy. In December 2019 I decided after I had written and recorded a song called "Believe" that I was not going to horde my music any longer. I learned how to create small videos to go along with my song clips. I used iMovie and really liked the format. I began to share my creations on my personal Facebook and Instagram pages. In February 2020 I looked into music distribution and I discovered Distrokid. I have been pleased with them so far and they have sent my music to a bunch of digital stores.I also found Routenote and have uploaded tracks to them as well for SoundCloud and Youtube. Of course I had created SoundCloud, Bandcamp, Facebook and Instagram sites for getting my music out there. I want nothing more than to share my music with anyone willing to listen and enjoy it for what it is worth- entertainment. I hope this information will help someone wanting to do the same type of thing I have. Music is my hobby and I don't or ever will ever take it too serious. I want to keep it fun and stress free.Any questions or comments please hit me up by clicking the email link in my contact section.